Landlord Portal
As a landlord, you know the challenges of renting your properties. Wouldn't it be great to receive guaranteed rent payments, deposited directly into your account? Wouldn't it help your bottom line to reduce vacancy rates and time spent showing units? Or having pre-screened residents? Portland Housing Authority is looking for responsible property owners in Portland and Cromwell who would like to expand their opportunities by providing otherwise unavailable living locations to some of our residents. An alliance with PHA will let your property work harder for you … and help build a stronger community.
The Goals
One of PHA's long-term goals is to increase availability of desirable, safe, affordable housing choices for its residents. Under the Section 8 Rental Voucher (Housing Choice Voucher, or HCV) Program, Expanded Housing Program and Accessible Housing Program, families are able to choose and lease or purchase privately owned rental housing outside of established Portland Housing Authority developments that may increase opportunities such as proximity to jobs, school districts and health care facilities. If you are a landlord who takes care of your property and residents, and can offer decent, safe and sanitary housing, PHA invites you to consider the advantages of becoming an HCV landlord. We have a specific need for handicap accessible housing, properties in low-impacted areas and properties with large numbers of bedrooms (4-5), but generally, all types of accommodations are sought. And, if you are already an HCV landlord who would like to expand your alliance with PHA by offering additional properties under different programs, or a landlord who is interested in the HCV program, there is a place for you with us.
The Advantages
Steady income through guaranteed Housing Assistance Payments (HAP), deposited right into your account. Think of it as consistent cash flow.
Fully rented properties will enhance stability of the neighborhood and keep property values up.
Landlords are assured of reliable residents since they must meet PHA's stringent occupancy requirements and background checks. However, landlords may also conduct their own screenings. (PHA only conducts an income eligibility and criminal background screening. It is the landlord's responsibility to conduct a screening for suitability. PHA has no liability or responsibility to the owner for the family's behavior or suitability for tenancy.)
PHA advises HCV residents on avoiding eviction, reducing the chances of this happening.
You will have the satisfaction of providing safe, decent and affordable housing to families who are motivated to improve their living environments and quality of life.
The Process is Easy
There is no application fee, waiting list or bid process to become an HCV landlord. The landlord and tenant fill out a Request for Tenancy Approval (RFTA) packet and a Housing Quality Standards (HQS) inspection is scheduled. The unit must pass before occupancy can take place. The process usually takes 30-60 days, depending on when the RFTA is submitted. The RFTA is given to the tenant at the initial or update appointment when they receive a voucher. It is not given to the landlord; however, the landlord and tenant must fill out and provide the necessary information and documents. The RFTA can be mailed back or dropped off. PHA will not accept a fax because we will need to see the original seal from the City tax office. We prefer that the tenant drop the RFTA off or come in for an appointment because it is quicker than U.S. mail and we can verify that all the information is correct.
Is my Property Subject to any Sort of PHA Standard or Inspection?
Yes. PHA Housing Quality Standards (HQS) inspections are conducted annually. Properties must pass the HQS inspection. If a unit fails, the landlord is allowed a cure period and then a re-inspection is scheduled.
Where Can I Get More Information About Working With PHA?
An alliance with Portland Housing Authority is a smart, solid business decision. If you are ready to decrease your vacancy rate, increase the consistency of rent collection and add stability to your property's neighborhood, please call the office at (860) 342-1688 ext 113. Staff is available to answer your questions and help you through the process by phone or appointment.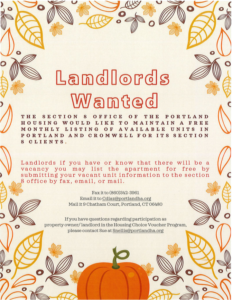 Current Landlords
Landlords Name
Phone #
Bedroom Size and Rent Amount
Address of Unit
Other Notes
Brandon Rush
[email protected] (Email preferred for inquiries)
203.617.8417 (Text preferred for inquiries)

3 beds
Rent $1550/mo and $50/mo for owner paid heat ($1600 total)
Unit in Portland please contact the landlord for the address.
1400 Sq ft /2 full bath
Washer and dryer hookups available in the unit
The heating is split. Oil fueled heat paid by owner and electric heat by the tenant.
Full kitchen with dishwasher. Rent includes water, trash, and some snow removal
Deposit: 1.5x monthly rent ($2325)
Pets: 1x Cat allowed ($300 additional security deposit and $50 additional per month)


Manny R.
860-262-1286
2 beds
Rent $900/mo
26 Airline Ave. Portland
1 carpark
sewer and water included.
Elliot Morales
203-943-8774
2 beds
Rent $1,200.00/mo

3 Quarry Lane Portland
tenant pays for oil heat, electric hot water and electricity.
Houston Mcingvale
203 605-6255
4 beds
Rent $1,800.00/mo
167 Airline Ave. Portland
Cold water
washer and dryer included
3 parking spots
Lisa or Don Mondani
860-250-1122
3 beds
Rent $1800/mo
568 Main St.
Cromwell
Tenant pays: oil heat, electricity and oil hot water.
Landlord pays: for sewer, water, lawn, snow removal, and trash.
Private Yard


Landlords if you would like the PHA  to advertise your vacant units to our Voucher holders please contact Carol Diaz at 860-342-1688 at ext.110 to let us know more details.
Click on the link below to log in to your account to see payments processed.
Your Username is your Landlord ID and your password is the last four of your Landlord Code